Premium Concrete Mould Oil 25 Ltrs
Premium Concrete Mould Oil 25 Ltrs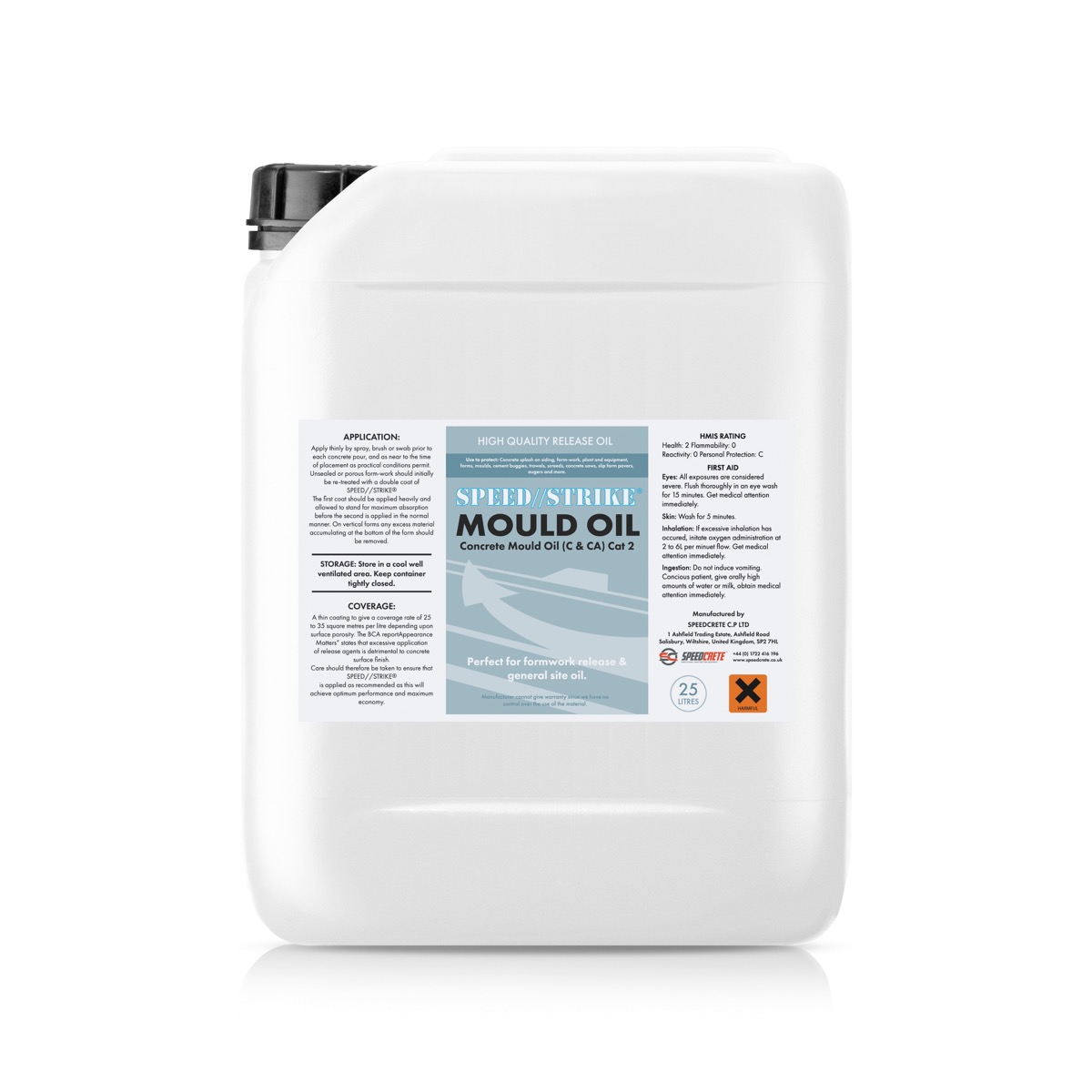 Mould Oil, Formwork Release
Formwork is both a vital component of the working jobsite and a costly item to replace if it should become damaged frequently.
Our Mould Oil helps ensure that formwork remains free of concrete deposits is therefore an essential task and an efficient and powerful cleaning agent is a vital product to get the job done.
This multi-reactive form release consists of an organic chemical that reacts with the alkali compounds found in concrete. It then releases a film that coats the form to which is it applied to prevent future bonding of concrete to its surface. Our mould oil has great performance characteristics that helps prevent bonding and long clean-up cycles.
With these exclusive ingredients in addition to the product's high molecular weight makes for an extremely effective and well-performing cleaner that combines chemical action with a preventative barrier to provide twice the separation capabilities you would find in a lesser agent.
Speed//STRIKE Formwork Release Agent meets the maximum capacity of VOC content for form release compounds of 450 g/l.
Directions
Surface Preparation
Clean all form surfaces thoroughly prior to application. Remove all rust, scale and/or previously used form release agents from the forms, in accordance with good concrete practices. It is imperative when using new timber forms of all types (plain wooden, plywood, rough cut etc.) that Speed//STRIKE be applied and reapplied until complete saturation has been accomplished prior to first use.
Application
Spraying is the ideal method of application. Use a Mesto sprayer that flows approximately 1 gallon per minute (suitable sprayers available from the accessories section below). Speed//STRIKE may also be applied by roller coating,mopping or brushing. A thin film should be applied for maximum economy and efficiency. Runs or puddles need to be brushed out. For metal forms, the best results are obtained with a spray-on 'fog' application of Speed//STRIKE.
Coverage
600-1500 sq. ft/USGal (17.7-36.8 sq.m/L), depending on the type and porosity of the form surface.
Precautions
For exterior use only. DO NOT OVER APPLY SPEED//STRIKE TO FORMS AND EQUIPMENT. DO NOT DILUTE
We found other products you might like!