Super-tough lightweight magnesium tamp beams
Speedcrete is proud to present these excellent tamp beams - the perfect tool for anyone with concrete finishing needs.
Made from magnesium, these products are ultra-lightweight - weighing up to 30 per cent less than other brands - so they can be transported easily.
However, this tool does not compromise on strength and durability, with the metal alloy remaining straight and maintaining rigidity for far longer than other screeds, while their stiffness also works to eliminate sag.
Made by Kraft - a well-known and trusted brand - these are excellently-crafted products, guaranteed to give a good performance.
They are available with adjustable tamp or saw beam handles, which come in useful during high-tolerance jobs.
We have a fantastic range of grips to suit this product that can be browsed below.
If you're searching for a reliable and long-lasting screed, why not take a closer look at this super-tough, lightweight magnesium tamp beam - it could be just what you need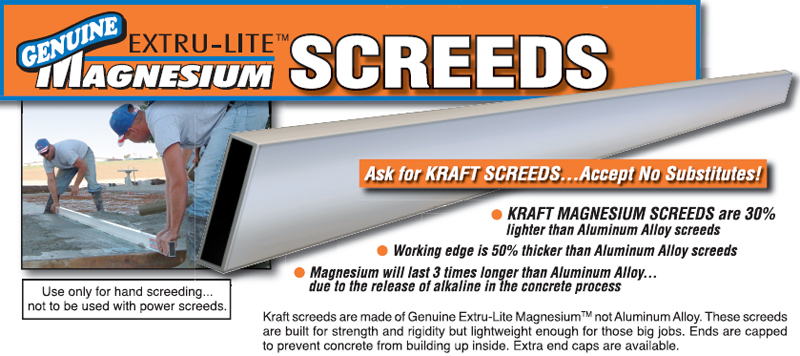 Specs
Manufactured from magnesium, lightweight and high rigidity
<
Available with Fixed or adjustable tamp beam handles or saw beam handles for high tolerance jobs
There are no file attachments for this product.
You might be interested in