Husqvarna K2500 16" Hydraulic Saw
Husqvarna K2500 16" Hydraulic Saw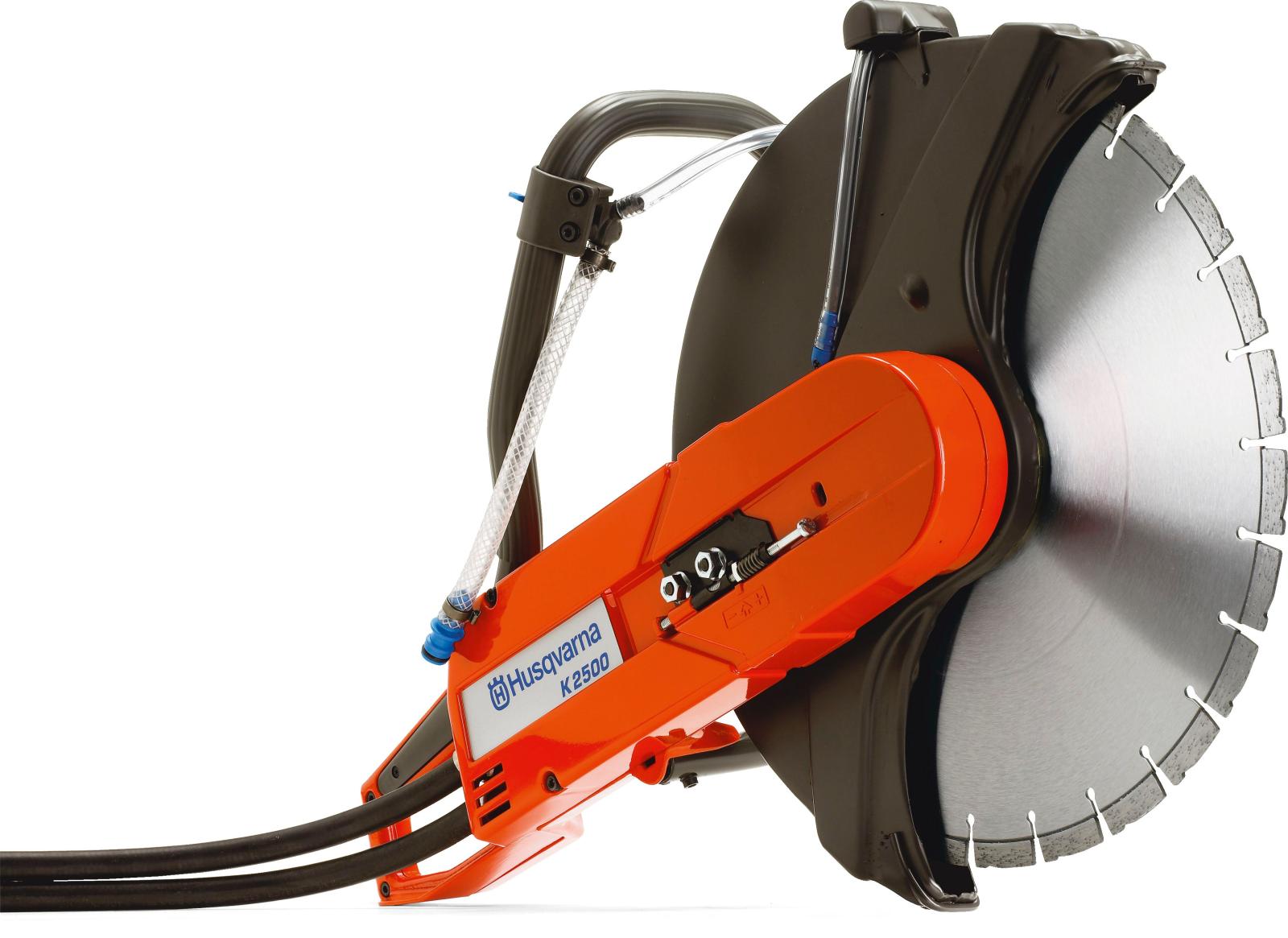 The K2500 Husqvarna hydraulic cut off saw deliver powerful and reliable cutting of a range of construction materials. Hydraulic power is perfect for sensitive or confined environments where exhaust emissions can be of concern.
Hydraulic chop saws are powerful and lightweight. They are a cost effective solution where a powerpack is already available.
The K2500 from Husqvarna handles up to a standard 350mm [14"] diamond blade or abrasive blade. It features a reversible cutting arm that allows close cutting to walls and other obstacles from either side of the machine. The K2500 hydraulic cutter saw also features DEX™. A unique water saving wet cutting kit that keeps dust to a minimum
Hydraulic gear motor
Blade brake
Servo for RPM control
Replaceable arbor bushing
K 2500 is especially light and manoeuvrable.
Powerful, durable cutter that allows efficient work during long shifts.
Capacity for a 400 mm blade.
High power output, 5.2 kW, with hydraulic operation.
Servo for motor speed control.
Blade brake stops the blade within a few seconds.
Blocks, curbstones and pavers

Cast concrete

Floors and walls
Specs
Engine

| | |
| --- | --- |
| Power output | 5.2 kW / 7 hp(I) |
| Hydraulic flow, max | 40 l/min / 10 gal/min |
| Hydraulic pressure | 140 bar |
Cutting equipment

| | |
| --- | --- |
| Max cutting depth | 145 mm / 6 inch |
| Blade diameter | 400 mm / 16 inch |
Dimensions

| | |
| --- | --- |
| Weight (excl. cutting equipment) | 8.3 kg / 18.3 lbs |
Vibration

| | |
| --- | --- |
| Vibrations front handle | 7.5 m/s² |
| Vibrations rear handle | 5.2 m/s² |
Sound and noise

| | |
| --- | --- |
| Sound power level, guaranteed (LWA) | 107 dB(A) |
Optimal
Good
Acceptable
—

Model

Materials
Marble
—
—
—
—
—
—
Granite
—
—
—
—
—
—
Brick
—
—
Cured concrete
—
—
Roof tile
—
—
Reinforced concrete
—
—
—
Hard tiles - porcellanato
—
—
—
—
—
—
Ceramic tiles
—
—
—
—
—
—
Cured concrete hard
—
—
—
—
—
Cured concrete medium
—
—
—
—
—
Cured concrete soft
—
—
—
—
—
Abrasive material
—
—
—
Asphalt
—
—
—
Green concrete (abrasive) soft
—
—
—
—
—
—
Asphalt hard
—
—
—
—
—
—
Asphalt soft
—
—
—
—
—
—
Iron
—
—
—
—
—
—