Evolution Tools Engine With Jetwash Attachment
Evolution Tools Engine With Jetwash Attachment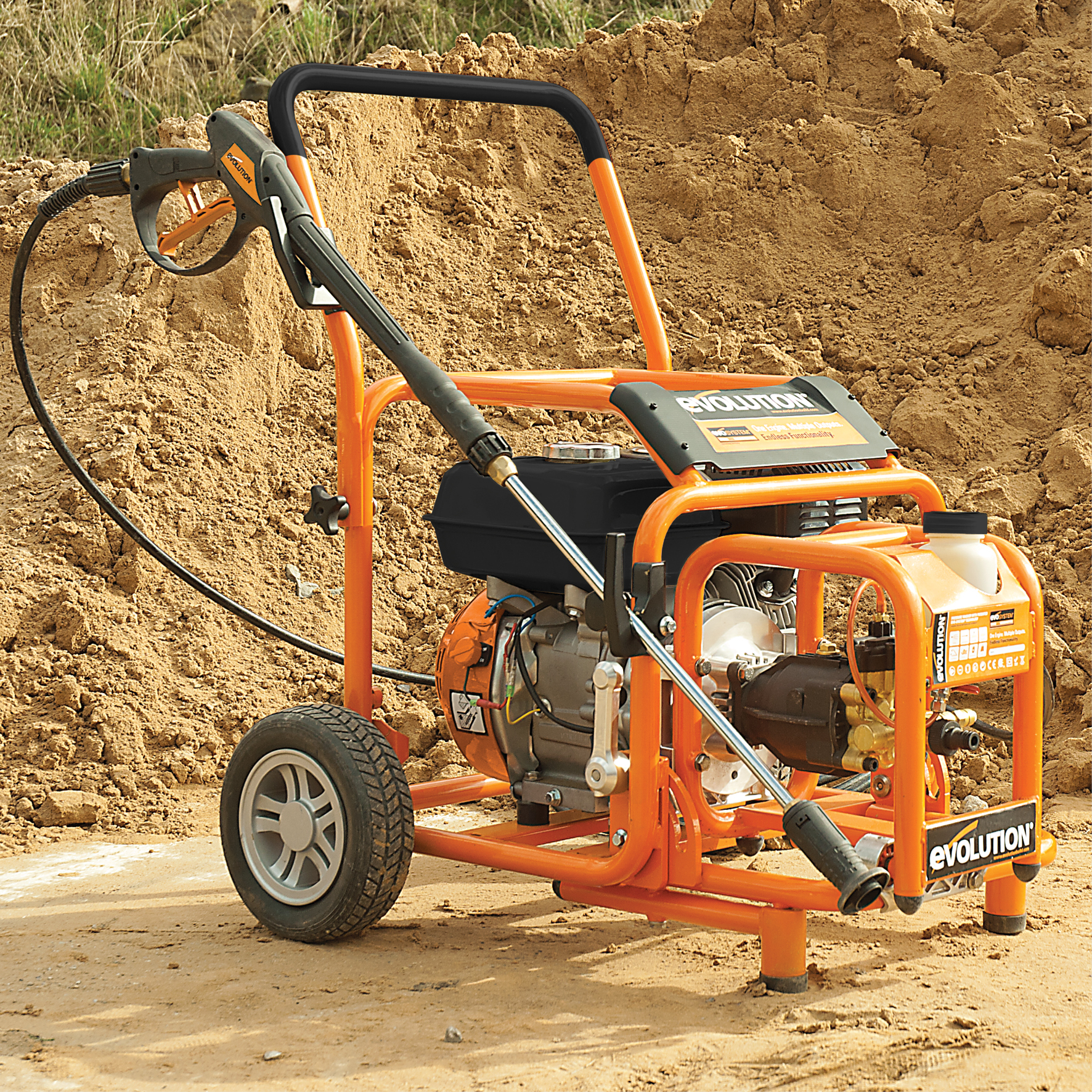 Evo-System is revolutionising outdoor power equipment.
One engine unit powers a range of compatible attachments providing you with a flexible & versatile machine whilst saving you money. Evolution's unique quick release coupling allows easy output connectivity and removal - it takes seconds!
Evolution Evo-System Engine - GT600
The Evo-System GT600 Engine Unit is for heavy-duty use. It provides ample power to the entire selection of outputs in the Evo-System range and offers superb value for money.
Features:
Robust & Durable Steel Frame
Wheel Kit Provides Mobility
Folding Handle For Storage
Folding Output Frame
Oil Low Sensor
Specification:

Power - 6hp (4-Stroke)
Fuel Tank - 3.8L
Start - Recoil
Evolution Evo-System Pressure Washer Output - PW3200
The PW3200 is ideal for a huge range of industries and problems including: Vehicle Valeting, Motorsport, Tools & Machinery, Commercial Cleaning, Domestic Use and much more. Features premium quality brass pump, high-pressure performance (175 bar) and built-in detergent system for maximum cleaning capability. Supplied with hooks, which fit to the frame of the engine, for convenient storage of the lance. Includes professional lance with adjustable nozzle, which varies the spray for the required use.
Features:

Lance with Adjustable Nozzle & Hose
Built-In Detergent System
High Quality Brass Pump
Robust & Durable Steel Frame
Specification:

Rated Pressure - 175bar (2500psi)
Max. Pressure - 220bar (3200psi)
Flow Rate - 8L/min
Protection - Thermal Relief Valve
Lance - Professional Lance Included
Hose - 6m Reinforced Hose
Detergent System - 1L Detergent Bottle
Weight - 7.2kg
Weight (Lance & Hose Included) - 10.8kg
Product Dimensions (H x D x W) - 320 x 200 x 330mm
Packaging Dimensions (H x D x W) - 350 x 285 x 520mm