HI-PO Lite-Man 360 Degree Lighting Tower
HI-PO Lite-Man 360 Degree Lighting Tower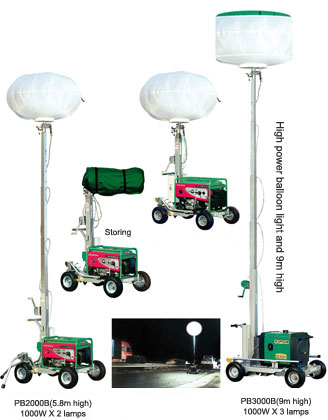 Lite-Man Hi-PO 360 Degree Light
When you're assigned to an outdoor project at night such as roadworks, you want to be able to see what you are doing without distracting drivers in the area.
So the Lite-Man Hi-PO 360 degree lighting tower could be ideal for your needs, as it has been designed to provide soft and widespread illumination without causing any glare.
There are two versions of this highly versatile product available on the Speedcrete website.
Both can be powered in a number of different ways - either plug it in to a standard electrical transformer or use the in-built fuel tank, which contains either 13 litres or 25 litres depending on which model you purchase.
The lighting tower is also very portable, either to handle rough surfaces just as well as smooth terrain - so it's great to use in just about any outdoor space.
Specs
Balloonlight tower

PB2000B

PB3000B
Generator
Type
KIPPOR
IG6000
KIPPOR
IG6000

Rated voltage
110V
110V
Rated frequency
60HZ
60HZ
Rated output
2.8KVA
5.0KVA
Maximum output
3.0KVA
5.5KVA
Fuel
93# gasoline
93# gasoline
Fuel consumption
1.4L/hr
2.7L/hr
Working hours
9hr
9hr
Fuel tank capacity
13L
25L
Net weight
60kg
85kg
light tower
Watt?number
1000W X 2

1000W X 3
Total luminousness
220000 lm
330000 lm
Number of expansible
5
5
Length of the expansible
2220-5770mm
3,000-8930mm
Retracted LWH
1500 x 500 x 720mm
1530 x 950 x 2200mm
Maximum inclination
< 10°
< 10°
Anti-wind
6
6
Total weight
200kg
318kg
Technical
Other types of lighting towers cause glare for workers and operatives. They also have inconsistent coverage and may cause accidents due to poor visibilty.
The balloon light tower addresses all these concerns. The most outstanding features of the tower are its glare-free, shadow less, brighter light with a coverage angle of 360. The reflector is made of synthetic fabric materials designed exclusively for use in space. It is evenly translucent, watertight and comes in unique styles. The Light Tower has received high praise since it came on the market. The Light Tower has been widely used on construction sites for highways and busy main roads. The Light Tower has revolutionized nighttime illumination, which greatly improves safety for both drivers and construction workers.