360° / Spot Interchangable Lighting Tower
360° / Spot Interchangable Lighting Tower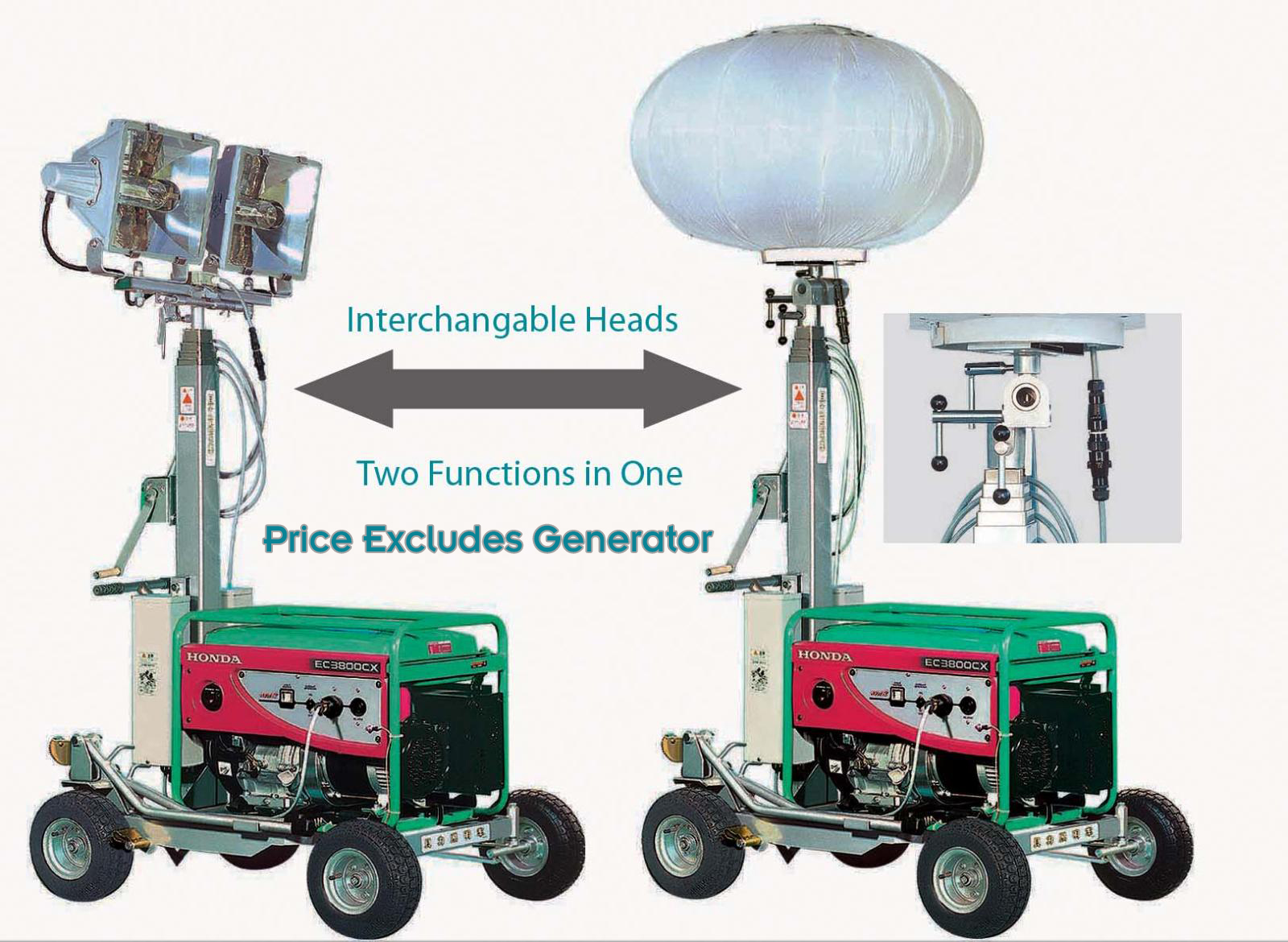 Introducing the new Interchangable Lighting Tower system. Quality illumnation: glare-free, brighter light with a coverage of 360°
Our latest 360° light features an interchangeable head system utilising an aero plug to give you a unique lighting solution.
Choose the soft diffused all round light for situations that demand a full lighting requirement or choose the targeted powerful direct light of the traditional spot head. The interchangable system is currently available with 2000 watts of Metal Halide power although more powerful options may be available by special request.
The system is available in manual or self propelled (SP) versions with removable and stowable lighthead unit. Positive speed control on SP version with rough terrain capability.
Masthead height to 5.6m (18.36ft). The 360° all round illuminating coverage can be specified with a screened balloon for downward illumination. Supplied with or without generator.
The Standard Kit includes 2 x Standard Spot Lamps, 1 x Balloon Lamp, 1 x Towerlight Body.

Specs
Balloonlight tower

PB2000B

PB3000B
Generator
Type
KIPPOR
IG3000
KIPPOR
IG6000

Rated voltage
110V
110V
Rated frequency
60HZ
60HZ
Rated output
2.8KVA
5.0KVA
Maximum output
3.0KVA
5.5KVA
Fuel
93# gasoline
93# gasoline
Fuel consumption
1.4L/hr
2.7L/hr
Working hours
9hr
9hr
Fuel tank capacity
13L
25L
Net weight
60kg
85kg
light tower
Watt?number
1000W X 2

1000W X 3
Total luminousness
220000 lm
330000 lm
Number of expansible
5
5
Length of the expansible
2220-5770mm
3,000-8930mm
Retracted LWH
1500 x 500 x 720mm
1530 x 950 x 2200mm
Maximum inclination
< 10°
< 10°
Anti-wind
6
6
Total weight
200kg
318kg
Technical
Other types of lighting towers cause glare for workers and operatives. They also have inconsistent coverage and may cause accidents due to poor visibilty.
The balloon light tower addresses all these concerns. The most outstanding features of the tower are its glare-free, shadow less, brighter light with a coverage angle of 360°. The reflector is made of synthetic fabric materials designed exclusively for use in space. It is evenly translucent, watertight and comes in unique styles. The Light Tower has received high praise since it came on the market. The Light Tower has been widely used on construction sites for highways and busy main roads. The Light Tower has revolutionized nighttime illumination, which greatly improves safety for both drivers and construction workers.