Sands Professional Magnetic Digital Levels
Sands Professional Magnetic Digital Levels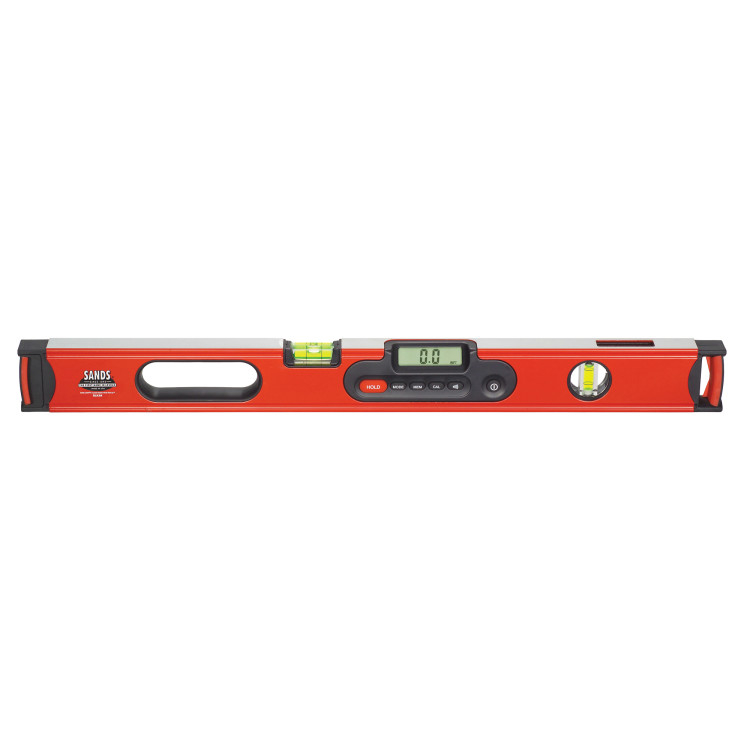 Sands Professional Magnetic Digital Level
The Sands professional digital levels store measurements and helps the user find exact angles, percentages, and pitches. The digital display is accurate to .1" at level and plumb. The display features a 10-minute auto shut-off to extend the battery life. The display is splash and dust resistant to extend the life of the level. Excellent for use on roadwork, sidewalks, and plumbing. A unique plumb vial feature can be read on the side or from the top, making working on walls and door jambs easy. In addition to the digital display is a total of 2 vials, 1 top-reading, and 2 plumb vials are accurate to .005" per inch. Shock absorbent end caps provide strength and durability on the job site. Two hand holes with comfort grip are easy to grasp and makes for easy movements. Each end features a hang hole for easy storage. Requires a 9 Volt battery. Battery not included.
Digital display accurate to .1" at level and plumb
Vials are accurate to .005" per inch
Unique top and side reading plumb vial for versatility
Magnetic edge works on metal frames

A hang hole on one end allows for easy storage when not in use. Store in a Professional Level Case (#SLPLC48), sold separately, to protect your level and extend its life. Proudly made in the USA.

Available in a choice of sizes from 12" up to 48".