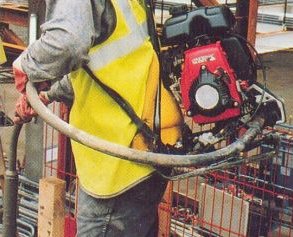 Thorough compaction and thus the removal of air is paramount for concrete to cure to full strength and therefore durability. Currently the most effective way of achieving this is the induction of vibration into the concrete. Vibration can be induced either by a traditional poker device or via our new vibratory free screeding tools that eliminate the need for a poker.
Concrete should be placed in layers no more than 450mm deep. Each layer should be vibrated before the next layer is placed. This ensures the air bubbles can escape to the surface and don't get trapped. The next layer has to be vibrated before the previous layer has hardened. The vibration should penetrate the first layer by about 100mm to ensure a good bond between the two layers.
When using a poker only a small area around the poker will be compacted to an appropriate degree. The size of this area depends on a number of factors; size of the poker head, frequency and amplitude of the vibration, slump of the concrete, aggregate and admixtures, amount and size of reinforcement bars, distance from the formwork.
Watch the surface around the poker, the size of the of the compaction circle can be determined by the 'fat' that rises to the surface. This 'fat' aids in providing a final finish to the concrete. For complete compaction the poker should be inserted at intervals so these circles overlap.

Choosing a vibrator
The size of the job and the power supplies available on site will determine which type of poker to use.
Hand held, small jobs powered by mains electric or a generator

Backpack pokers, powered by small backpack mounted Honda engine

Electric high frequency
The selection of head size is determined by the application. Small diameters for small concrete volumes, and narrow areas, larger diameters increase productivity on large pours. Rubber coated heads are also available that protected Epoxy coated rebar.
Caution!
Do not drag the poker through the concrete as pockets of air are likely to be trapped
Do not over vibrate, holder the poker in place for too long will cause the aggregate, sand and cement to separate out and reduce the strength of the concrete