Husqvarna S1465 | Universal Cut Diamond Blade
Husqvarna S1465 | Universal Cut Diamond Blade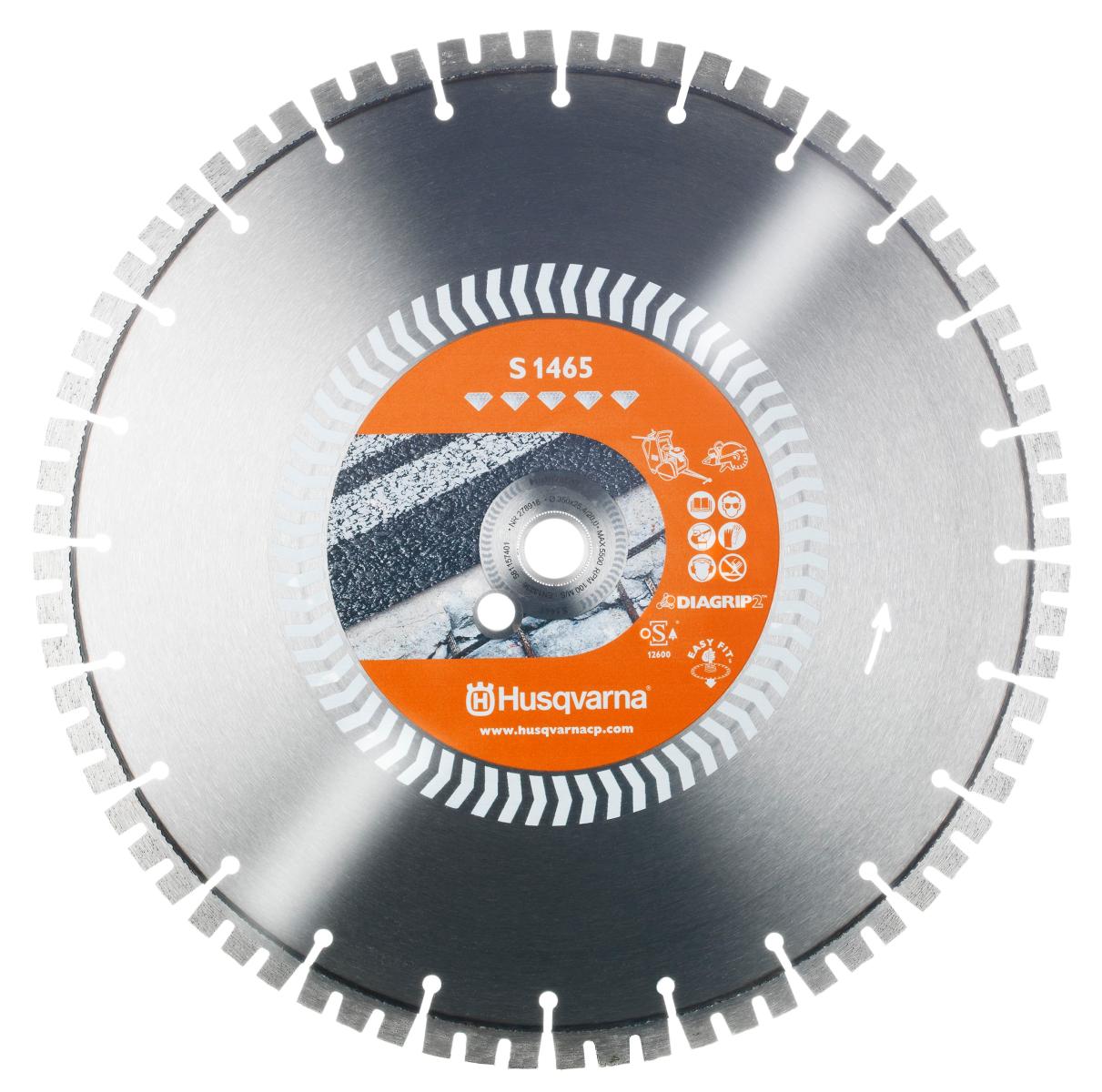 Husqvarna S 1465 Universal Cut Diamond Blade
-Diagrip™ matrix distribution. - Two segments in one design improving cooling and slurry transportation, effecting both speed and life in a positive way. - Special designed top of segments reduces surface contact of a new blade, for easier starts.- Cuts all normal and abrasive construction materials, including Concrete, Bricks and other Materials including Steel.p>
Benefits:
*S 1400 Diagrip™ series
*Easy operation even in heavily reinforced concrete.
*Higher cutting speeds.
*Stable cutting without vibrations.
*"Easy-fit", a bushel for bore hole expansion.
*The S 1445 and S 1465 blades have a two-segments-in-one design, for better cooling and slurry transportation. This improves both speed and service life.
*The S 1485 asphalt blade has specific segments added, for protection against undercutting.
Diagrip
Diagrip™ is a revolutionary new technology for producing diamond segments. The diamonds have a special treatment that ensures an optimal distribution. Also, the diamonds are held in the segment for longer, so they are utilised maximally. The result is blades with superior cutting capacity, longer life and a smooth, rapid cut.
Easy fit
Easy-fit, a bushel for bore hole expansion.
High performance concrete blades
High-performance concrete blades for varying aggregate and reinforcement
Optimum performance
Designed for optimum performance with handheld power cutters and low powered floor saws due to high speeds and stable cutting without vibrations.
Specs
Blade specs

| | |
| --- | --- |
| Type | Wet /dry |
| Blade diameter range, min-max | 300-400 mm / 11.81-15.75 " |
| Geometry | Segmented |
Segment

| | |
| --- | --- |
| Assembly | Laser welded |