Husqvarna K970 RESCUE Disc Cutter c/w Blade
Husqvarna K970 RESCUE Disc Cutter c/w Blade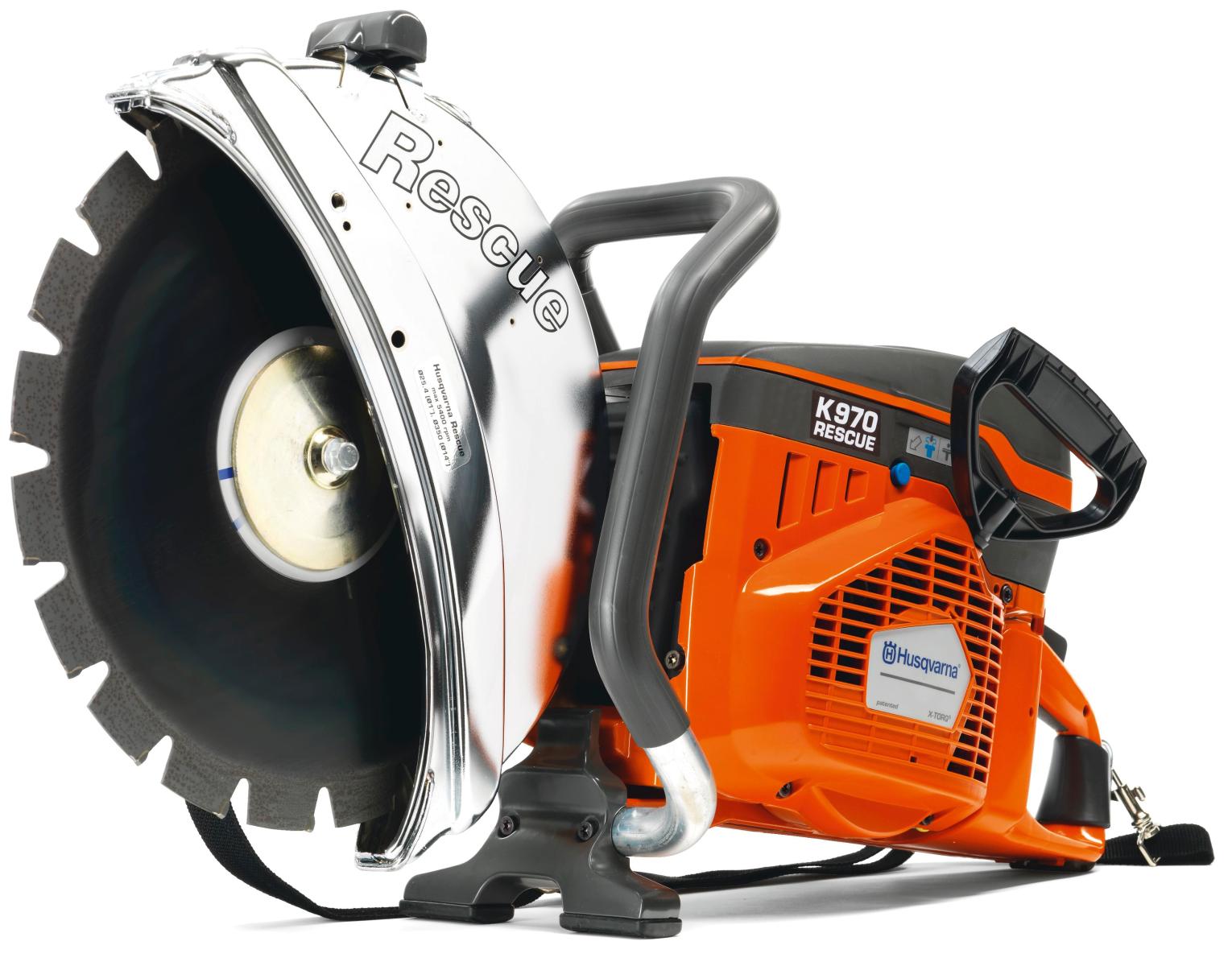 The Husqvarna K970 Rescue saw is designed for emergency crews and site clearance. Designed for ease of use in critical situations the K970 RESCUE features a larger starter handle to facilitate easier starting when wearing safety gloves. A redesigned ergonomic handle caters for increased operator control and comfort to enable cuts to be made precisely and accurately.
The K970 RESCUE from Husqvarna also feature a crome plated guard that provides an increased visibility point in smoky or low light conditions. The X-Torq engine provides up to 75% less emissions which aids operator comfort and health and safety concerns when operating n confined spaces. All round this saw is a pleasure to use.
Chromium-plated blade guard, visible in smoke and water spray, enhances control of the cutter.
Specially designed starter handle, with room for heavy gloves.
Adjustable carry strap allows full freedom of movement.
The new generation of Active Air Filtration™ is one of the most efficient air filtration systems on the market, delivering operational times up to one year, with no filter service required.
Engine with X-Torq produces 75 % less emissions, 20 % lower fuel consumption and more power.
DuraStarter™, the dust-sealed starter, and the durable starter cord reduce the risk of downtime and increase reliability and product life.
SmartCarb™, built-in automatic filter compensation, maintains high power and lowers fuel consumption.
Easy to start thanks to Air Purge and decompression valve.
The Poly-V belt provides better transmission of power, less frequent re-tensioning and greatly extended product life.
Efficient vibration dampening reduces vibrations to less than 5 m /s², for more convenient operation.
DEX – water-saving wet cutting kit for efficient dust management.
Fuel indicator in the tank shows fuel level, to help avoid unnecessary stoppages.
Specs
Engine

| | |
| --- | --- |
| Power output | 3.7 kW / 5 hp(I) |
| Cylinder displacement | 73.5 cm³ / 4.48 cu.inch |
Cutting equipment

| | |
| --- | --- |
| Blade diameter | 300 mm / 12 inch |
| Max cutting depth | 100 mm / 4 inch |
Dimensions

| | |
| --- | --- |
| Weight (excl. cutting equipment) | 9.7 kg / 21.4 lbs |
Vibration

| | |
| --- | --- |
| Vibrations front handle | 1.9 m/s² |
| Vibrations rear handle | 2.6 m/s² |
Sound and noise

| | |
| --- | --- |
| Sound power level, guaranteed (LWA) | 113 dB(A) |
| Sound pressure level at operators ear | 101 dB(A) |