Husqvarna K970 14"/16" Disc Cutter c/w Blade
Husqvarna K970 14"/16" Disc Cutter c/w Blade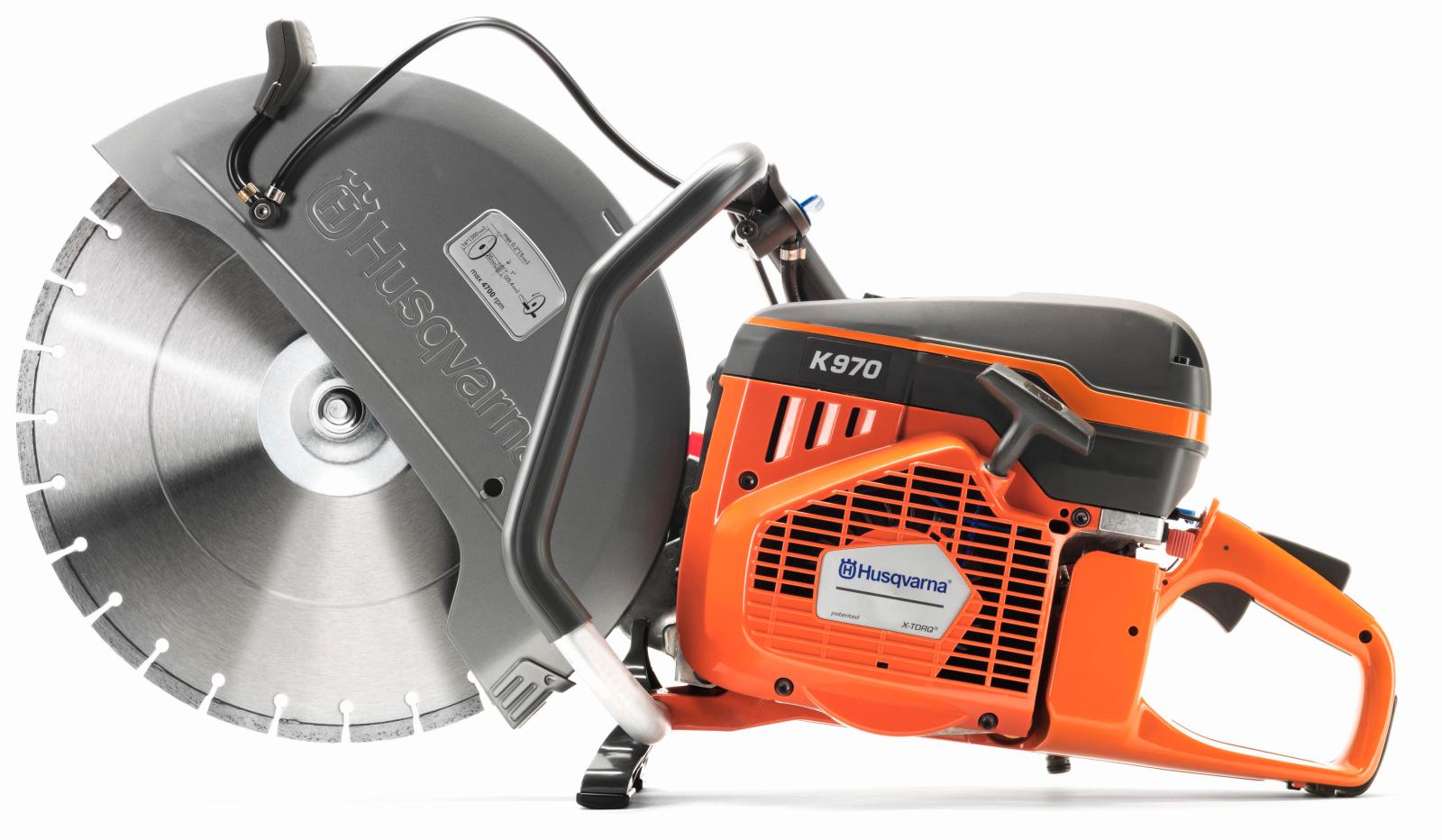 The Husqvarna K970 disc cutter saw can utilize 12" , 14" and 16" blade diameters. A powerful and professional grade tool it provide for a multitude of cuting applications at the jobsite.
The K970 features a new Active Air Filtration™ system designed to allow for operation of up to one year without filter changes. The durastarter is a dust seal system that gives trouble free starting on those cold winter mornings.
The Husqvarna K970 comes in two options. Either supplied complete with a 14" diamond blade suitable for cutting concrete or a 16" diamond blade suitable for cutting concrete. A range of optional extras can be supplied with the saw.
The new generation of Active Air Filtration™ is one of the most efficient air filtration systems on the market, delivering operational times of up to one year, with no filter service required.
Engine with X-Torq produces 75 % less emissions, 20 % lower fuel consumption and more power.
DuraStarter™, the dust-sealed starter, and the durable starter cord reduce the risk of downtime and increase reliability and product life.
SmartCarb™, built-in automatic filter compensation, maintains high power and lowers fuel consumption.
Easy to start thanks to Air Purge and decompression valve.
The Poly-V belt provides better transmission of power, less frequent re-tensioning and greatly extended product life.
Efficient vibration dampening reduces vibrations to less than 5 m /s² (applies to the 350 and 400 mm blades), for more convenient operation.
Fuel indicator in the tank shows fuel level, to help avoid unnecessary stoppages.
Adjustment to openings

Blocks, curbstones and pavers

Cast concrete

Floors and walls

Pipes
Specs
Engine

| | |
| --- | --- |
| Power output | 4.8 kW / 6.5 hp(I) |
| Cylinder displacement | 93.6 cm³ / 5.71 cu.inch |
Cutting equipment

| | |
| --- | --- |
| Blade diameter | 300/350/400 mm / 12/14/16 " |
| Max cutting depth | 100/125/145 mm / 4/5/6 " |
Dimensions

| | |
| --- | --- |
| Weight (excl. cutting equipment) | 10.6/11/11.8 kg / 23.4/24.3/26 lbs |
Vibration

| | |
| --- | --- |
| Vibrations front handle | 3.1/3.7/2.5 m/s² |
| Vibrations rear handle | 5.4/4.5/3.5 m/s² |
Sound and noise

| | |
| --- | --- |
| Sound power level, guaranteed (LWA) | 114 dB(A) |
| Sound pressure level at operators ear | 104 dB(A) |
Optimal
Good
Acceptable
—

Model

Materials
Marble
—
—
—
—
—
—
Granite
—
—
—
—
—
—
Brick
—
—
Cured concrete
—
—
Roof tile
—
—
Reinforced concrete
—
—
—
Hard tiles - porcellanato
—
—
—
—
—
—
Ceramic tiles
—
—
—
—
—
—
Cured concrete hard
—
—
—
—
—
Cured concrete medium
—
—
—
—
—
Cured concrete soft
—
—
—
—
—
Abrasive material
—
—
—
Asphalt
—
—
—
Green concrete (abrasive) soft
—
—
—
—
—
—
Asphalt hard
—
—
—
—
—
—
Asphalt soft
—
—
—
—
—
—
Iron
—
—
—
—
—
—