Husqvarna G640 3PCS Redi Lock
Husqvarna G640 3PCS Redi Lock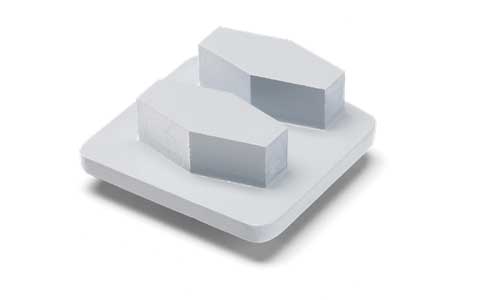 Redi Lock™ is an instant and hassle-free system for changing diamond tools. No need for multiple sets of diamond holder discs; no time consuming and impractical screw-on-diamond systems. Available for a variety of machine manufacturers.
Covers the surface preparation application in only 3 steps before using the resin tools for polishing application.
Optimal diamond selection enables the highest performance available for a wide range of conditions and applications.
With an extensive range of 6 different specifications you can tackle a wide scope of surface hardnesses and applications, going from very hard to very abrasive concrete.
Both single and double segments per item are available, allowing you to adapt your choice of tool to the application and machine. Triple segments offer improved life and speed in very abrasive conditions.
We recommend dry use of the tools. This improves the life ofthe tools and decreases your working hours, as no precious time is wasted on cleaning up slurry after the passes. Wet grinding is still possible.
Single or double, hexagonal or round premiuim segment with medium bond for medium to hard concrete
Name: G643S, Colour: Grey, Single/Double: Double, Grit Size (MESH): 20, Shape: Hexagonal, Bond Hardness: Medium
Name: G643D, Colour: Grey, Single/Double: Single, Grit Size (MESH): 20, Shape: Hexagonal, Bond Hardness: Medium
Name: G644S, Colour: Grey, Single/Double: Double, Grit Size (MESH): 30, Shape: Hexagonal, Bond Hardness: Medium
Name: G644D, Colour: Grey, Single/Double: Single, Grit Size (MESH): 30, Shape: Hexagonal, Bond Hardness: Medium
Name: G645S, Colour: Grey, Single/Double: Double, Grit Size (MESH): 50, Shape: Hexagonal, Bond Hardness: Medium
Name: G645D, Colour: Grey, Single/Double: Single, Grit Size (MESH): 50, Shape: Round, Bond Hardness: Medium
Name: G647S, Colour: Grey, Single/Double: Double, Grit Size (MESH): 100, Shape: Round, Bond Hardness: Medium
Name: G647D, Colour: Grey, Single/Double: Single, Grit Size (MESH): 100, Shape: Round, Bond Hardness: Medium