Concrete Curing Blanket Electric
Concrete Curing Blanket Electric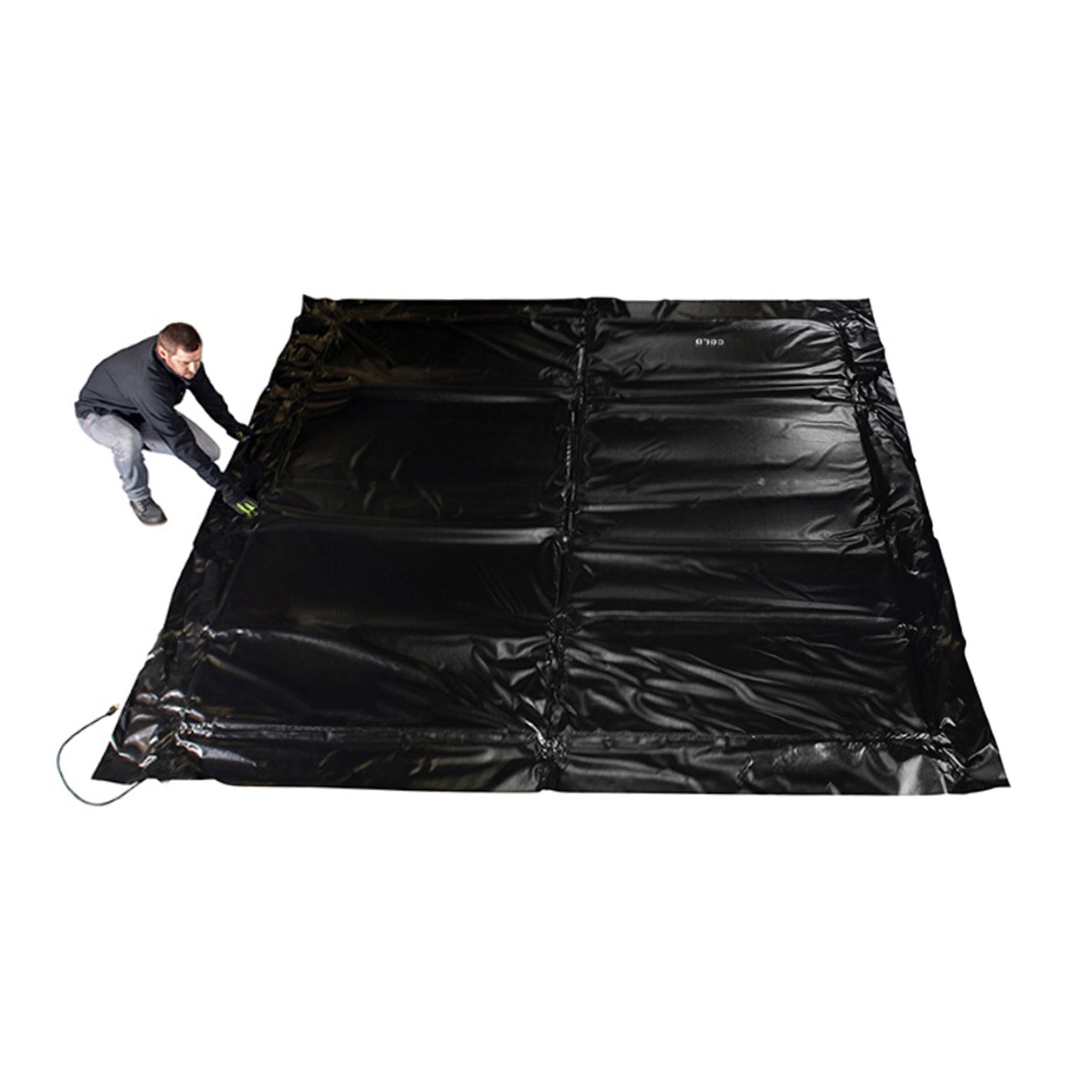 Related Products
Speedcrete heated blankets encorporate a revolutionary new heat spreading technology that utilizes electricity and patented materials to warm concrete evenly during the curing process, resulting in a rock-hard, crack-free finish. For use in both warm and cold weather climates to protect concrete from rapid drying, freezing and cracking. Speedcrete heated curing blankets help retain moisture in wet curing and brings it to the desired strength quickly and efficiently. Speedcrete electric concrete curing blankets can achieve a compressive strength in concrete of 4300 psi in only 9 hours with no cracking or defects.
The net result is a better finish and higher quality product for the customer.


The net result is a better finish and higher quality product for the customer.
Thaw, Heat, Cure.
* Prevents freezing, rapid drying, & cracking
* Thaw frozen ground prior to pouring
* Heat spreading technology cures concrete fast
* Roll it out, Plug it in, the blanket does the rest
* Accelerate your construction jobs all winter
* Produces ROCK-HARD concrete every time
* Maintain optimal curing temperatures year-round
* Only pennies a day to operate
The best cold weather solution for curing concrete, thawing frozen ground, and melting ice & snow.
Speedcrete heated blankets utilizes innovatie heat spreading technology which acts as a wet cure, completely eliminating cracking and defects. It accelerates curing time in both cold and warm weather conditions. The lightweight heated blankets are easy to transport in and out of basements, drape over water pipes, walls, and batch plants. Use bottom side up to prevent accumulation of snow and ice on driveways, roofs, materials, entry and walk ways. Perfect for curing precast concrete, footings, foundations, asphalt and blacktop, curbs, gutters, and driveways. Daisy chain together to cover large areas. Built in thermostats keep temperature at precise levels.
Stock Code

SCB510
SCB310
SCB1010
SCB520
Blanket Size


1.5 x 3 Metres

1 x 3 Metres

3 x 3 Metres

1.5 x 6 Metres



Weight

11kg




7kg




16kg

23kg

Voltage

110 volts

110 volts

110 volts

110 volts

Power

720 watts

480 watts

1440 watts

1440 watts

Current

6 amps

4 amps

12 amps

15 amps

Min temp for Guaranteed Results

-20° C

-20° C

-20° C

-20° C

Target temp range

40° C to 50° C

40° C to 50° C

40° C to 50° C

40° C to 50° C
What does "concrete curing" mean?

Great care must be taken while curing concrete to ensure maximum concrete strength and durability. It's one of the most important steps in concrete construction! Concrete hardens when hydration (the chemical reaction between cement and water) takes place. It is therefore important that fresh concrete stay within a specific temperature range during the concrete curing process in order for hydration to occur during the 5-7 days that follow pouring.

Does temperature have an effect on new concrete?

Absolutely! If the outside temperature is too high, water used in hydration will evaporate and cause the concrete to lose constitution. On the other hand, extremely cold weather will bring the process to a halt because the water will not be reacting with the cement. The general rule of thumb is that new concrete should be maintained above 11 degrees celcius for the entire curing process.

Why does concrete crack?

Just like any other substance, concrete expands when it dries out. If the drying takes place too quickly or under excessive heat, the structural integrity of the compound will be comrpomised. It is for this reason that contractors put spaces between slabs of concrete allowing for the natural expansion. On the other hand, cold weather can also result in cracked concrete. By using Powerblanket, you maintain optimum PSI levels in concrete while it cures, eliminating many of these problems.

Applications
Thaw, Heat, Cure. Typical Applications

Concrete Curing Blankets
Frozen Ground Thawing
Equipment Warming
Barrel & Tote Heaters
Snow & Ice Melting
Frozen Pipe Thawing
Pre-cast Concrete Production
Engine Blankets
Aircraft De-icing & Heating
Asphalt & Blacktop Curing
Gravesite & Headstone Thawing
Curb & Gutter Curing
Underground Utility Thawing
Propane Tank Heating
Spray Foam in Cold Weather
Cold Patch Asphalt Material Warming
Tree & Shrub Heating

We found other products you might like!